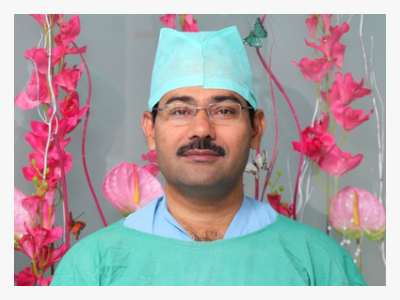 Dr. Pandit Palaskar
MBBS, MD, DNBE, DFP, MNAMS, Dip. Endoscopic Surgery (Australia)
[ Speciality  Gynecological Endoscopic Surgeon IVF-ICSI Infertility Specialist ]
Dr. Pandit Palaskar is the pioneer in the field of gynecological endoscopy and assisted reproduction in India. Till now he has performed more than 50000 endoscopic surgeriesfor various diseases of women. He and his team has treated many infertile couples, resulting in babies to 15700 couples after various treatment methods including endoscopy, IUI and IVF- ICSI till 2015. This creditable achievement has been the result of the collaborated efforts of the both doctors and dedicated staff of the hospital. The success rate of IVF of his center is comparable to the best IVF centers in the world.
Profile
This significant contribution lies in combining his basic successful surgical skills with those of gynecological endoscopy, embryology and cell biology. He always tries to give best to his patients. To achieve this goal he is always in search of the best treatment modality, instruments and infrastructure. He is among the few surgeons in the world who do the best laparoscopic tubal reanatomosis and Wertheim's radical hysterectomy for cancers of uterus to give the best outcome to patients. He is very active in the field of clinical research and is involved in a number of research projects such as endoscopic suturing, microendoscopy, endoscopic oncology, co-culture, assisted hatching and cryobiology. His keen interest in these fields has endorsed many national and international scientific publications. He has delivered lectures and presented papers in regional, national and international conferences on the various subjects of gynecological endoscopy and assisted reproduction. He has written a patient education book "from infertile to motherhood" in local marathi language to make patients understand the basics of human reproduction & infertility treatment. He has successfully conducted many workshops on gynecological endoscopy and assisted reproductive technologies (ART) from 2003 for training doctors all over the country. He was the organizer of the precongress endoscopy workshop in January 2005 for 48th national conference of FOGSI. Recognizing his training skills, his center is recognized by FOGSI for training the gynecologists in basic and advanced endoscopy, infertility management and ultrasound. He is an active member of the following Medical Societies :- Federation of Obstetrics & Gynecological Societies of India (FOGSI), Indian Association of Gynecological Endoscopists(IAGE), International Society of Gynecological Endoscopy(ISGE), Indian society of Minimal Access and Gynecological Endoscopic Surgery(IMAGES), Indian Society of Assisted Reproduction(ISAR).
For his outstanding performances, he has been felicitated and awarded by various organizations as under:
Gold Medal and Dr. V.D. Shastrakar Paritoshik by Marathwada University for scoring the highest marks in MD (OBGY) examination in 2000
Best paper prize for Video Presentation in MOGS Annual Congress, Mumbai in 2002
Rashtriya Rattan Award by International Study Circle, Delhi in 2005
Dhanvantari Award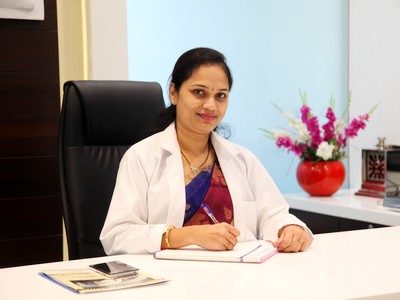 Dr. Rinku Palaskar
MBBS, MD
[Speciality Gynecological Endoscopic Surgeon, IVF-ICSI Infertility Specialist Sonologist]
Dr. Mrs. Rinku Palaskar is a pioneer in the field of reproductive medicine and ultrasound. Along with Dr. Pandit Palaskar she has treated thousands of patients with excellent outcome. She is known for her expert hand in interventional ultrasound for infertility management. She has performed many successful embryo reductions. She is the backbone of ISO 9001:2000 quality management system in Deogiri Nursing Home since its implementation. She is very active in clinical research and is working on role of color doppler in infertility, assisted reproduction and optimising implantation.
Profile
She has presented research papers in regional, national and international conferences. She has keen interest in teaching and is one of the faculties for workshops on basic and advanced endoscopy, infertility management and ultrasound which are conducted regularly at this center. She is also active in social work and regularly conducts diagnostic and therapeutic charitable camps, conducts yoga classes and awareness programmes for infertile couples, etc. She is coauthor of the book "from infertile to motherhood" which is written in marathi language for understanding the patients the basics of human reproduction and infertility. She is an active member of Indian radiology and imaging association (IRIA).
She has published following scientific papers:
Role of USG in evaluation of thyroid pathologies
Gnathic osteosarcoma
Sonographic prediction of ovulation
Correlation of endometrial thickness with pregnancy rate
Dr. Archana Gadkari
MBBS, DGO
[ Speciality : Obtstetrician, Gynecologist & Infertility Specialist ]
She is an expert in Obstetrics, Gynecology and has special interest in the management of infertility. She is working as an infertility consultant with Dr. Pandit Palaskar for past five years. She has participated in many workshops on gynecological endoscopy, assisted reproduction and ultra sonography.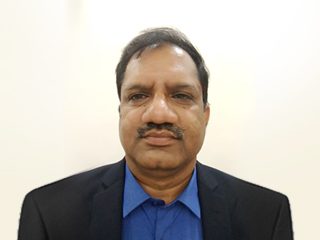 Dr Sanjay Khandagale
MS (General Surgery)
[Speciality : Department of Surgery chief laproscopic and endoscopic surgeon ]
Completed MS from MGIMS, wardha . Received fellowship in minimal access surgery (FMAS)2009 and fellowship of indian association of gastrointestinal and endoscopic surgeons (FIAGES) 2010. His area of interest is abdominal pain which remains a diagnostic difficulty in spite of all advanced imaging technology.
Profile
Department of surgery provides the following facilities
Advanced laparoscopy
Lap umbilical hernioplasty
Lap varicocelectomy
Lap duodenal ulcer perforation closure
Lap liver abcess drainage
Gastroscopy
Diagnostic Gastroscopy
Therapeutic Gastroscopy
Screening Gastroscopy
Follow Up Gastroscopy
Surgery
Pediatric Lap Appendicectomy
Pediatric Lap cholecystectomy
Pediatric Diagnostic Laproscopy
Pediatric Lap Herniotomy
Pediatric Lap Orchiopexy
Pediatric Lap Intestinal obstruction
Breast clinic
Fibroadenoma
Fibroadenosis
Mastalgia
Breast abscess
Breast cancer
Proctology-Clinic
Piles
Fistula
Fissure
Prolapse
Rectal Cancer
Cancer Diagnosis and Treatment
Stomach Cancer
Breast Cancer
Lung Cancer
Oral Cancer
Prostate Cancer
Penile Cancer
Sclerotherapy (injection treatment)
Department of Surgery
Administrator
Department of Pediatrics & Neonatology
National Instructor Facility Based New Born Care (FBNC) India
National Faculty Neonatal resuscitation Programme (NRP) India
Member, Developmentally Supportive Care of new Born Foundation, India
Treasure, Nationwide Quality of Care Network (NQOCN)
Faculty, Neonatal Emergency Simulation Team Training, India (NEST)
Dr. Kedar Sawleshwarkar
Fellow Neonatal Perinatal Medicine (Australia)
Fellow Pediatrics Intensive Care (Australia)
Fellow Developmental Pediatrics (Australia)
Dr. Ramesh Bajaj
Department of Anaesthesia
Department Of Medicine & ICU
INCENTIVE CARE UNIT
DR . YOGESH LAKKAS
MD MEDICINE HOD AND ICU INCHARGE
Past Experience: LTMMV Sion, TNMC Nair Hospital Mumbai
Special Interest: VENTILATORY MANAGEMENT,SEPSIS AND SEPTIC SHOCK ELECTROLYTE IMBALANCE, NEUROLOGY.
Publication:
Gitelman's syndrome presenting as recurrent paralytic ileus due to chronic renal tubular K+ wasting
monocular blindness during therapy of cerebral neurocysticercosis the journal of association physician of India 58(9):570-2 September 2010
Experience with patients with anti-MUSK antibody positive myasthenia gravis the journal of Association physician of India 58(20):640-2. october 2010
Management of geriatric mania complicated by hyponatremia and psychogenic adipsic hypernatremia – june 2014 Journal of Clinical Gerontology and Geriatrics.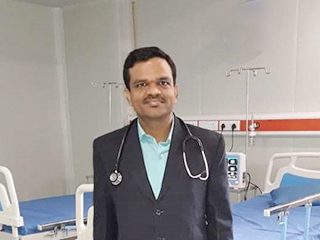 Dr Krishna Deshpande Aundhekar
DNB General Medicine , Hydrabad
Special Interest in diabetes management, Geriatric Care
Counselling Advisor for Chronic Diseases, weight loss therapy
Expert in ambulatory BP monitoring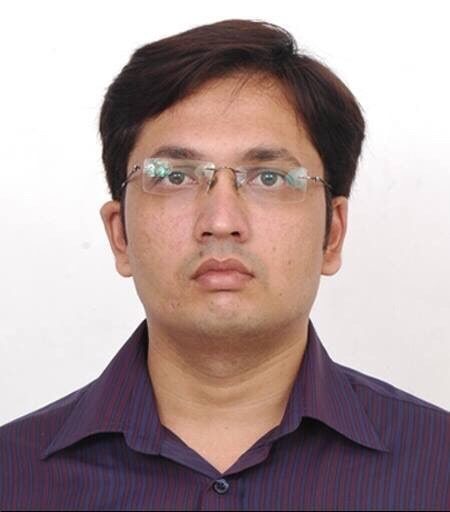 DR . NANDKUMAR NEEL
DNA GENERAL MEDICINE , HYDERABAD
YOUNG & DYNAMIC PHYSICIAN INTENSIVIST IN AURANGABAD
GREAT COMMITMENT & DEVOTION TO CRITICAL CARE WORK
EXPERTISE IN PERI-OPERATIVE MANAGEMENT IN SURGICAL ICU
Casualty & Orthopaedic Department
Dr Rishikesh Ghalke
MBBS, DNB Orthopaedics, (Pune), Orthopaedics and Trauma Surgeon.
Dr Rishikesh Ghalke has completed his Orthopaedic post graduate training in 2015 from Deenanath Mangeshkar Hospital and research Centre, Pune conducted by the National Board OF Examinations. He is also a member of the Indian Society of Hip and knee surgeons
His area of specialities include Orthopaedic trauma surgeries, complex and complicated fractures, Partial and complete hip replacements for fractures in hip area.peri articular and intra articular fracture surgeries in shoulder ,elbow ,knee and ankle .Total Hip and total knee replacements for long standing arthritis.
Available Facilities
Fracture Surgeries
Joint Replacement
Arthroscopy
Spine surgeries
Pediatric Orthopaedics
Geriatric Orthopaedics
Back pain clinic
Physiotherapy
Skin Hair – Laser Department
Dr Ashish Deshmukh
MD Skin V.D.(Mumbai), D.N.B. (Delhi)
Dr Ashish Deshmukh has joined as a consultant skin specialist in Endoworld Hospital. He has done his MBBS from Seth GS medical college Mumbai and MD Skin VD From Lokmanya Tilak memorial medical college, Mumbai. He is practicing since last 16 years in Aurangabad.
He treats all the diseases of skin, hair and nails. He is well versed in all the cosmetic procedures, lasers and dermato surgery. He will be available for consultation in Endoworld Hospital daily from 4-6 pm except Saturday and Sunday. Following is list of skin diseases and procedures
Available Facilities
Psoriasis
Eczema
Hair loss
Nail diseases
All skin diseases of children
Drug reactions
Skin diseases requiring admission such as Stevens Johnson syndrome
Vitiligo
Acne
Laser for hair reduction
Laser for tattoo removal
Laser for pigmentation
Radiosurgery for moles, warts, skin tags
Chemical peels for acne, pigmentation
Dermaroller for acne scars